Plan your trip to the northern coast of Scotland and enjoy a road trip around the most scenic landscape in the world with this relatable and reliable guidebook, detailing not only the best and most popular sights along the route but also the hidden gems that most overlook. 
Orders for the most in-depth travel guide to the North Coast 500 are now open.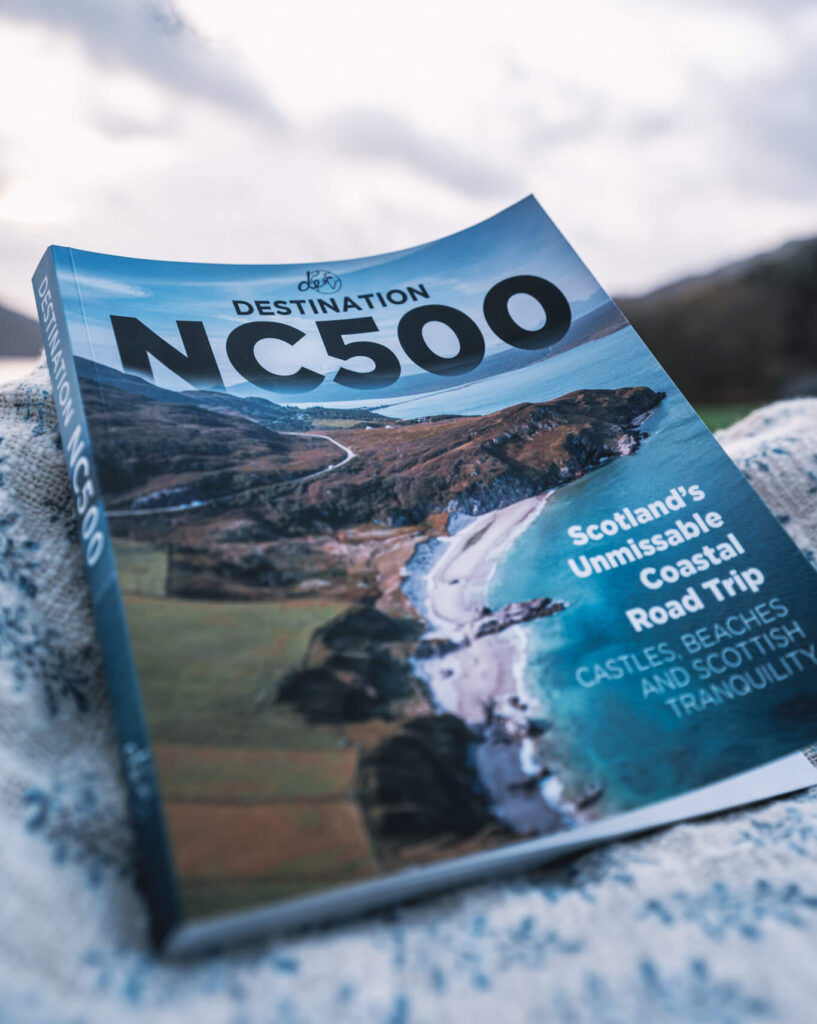 Scotland is very well known for its brilliant wild camping spots, as well the fact that it is legal to do so. Although this brings an incredible amount of freedom, there is an etiquette that you should really follow when doing so. We have outlined all of this for you in our complete guide to wild camping, which also lists all of the essentials you will need for your next trip.
Throughout our North Coast 500 road trip, we camped wild as much as we could. This saved us an incredible amount of money, which was better spent on more important things (aka beer). This blog is for you guys, highlighting our wild camping NC500 spots around the northern coast of Scotland!
For those who are not such a huge fan of the wild side of Scotland, we will also list the best NC500 campsites for motorhomes, caravans and tents in this article. We love seeing all of your adventures and can't wait to see what beauty you discover in the north of Scotland. Tage us in your Instagram stories and pictures and we will share them with the rest of our community!
INSTA – @highlands2hammocks
Get planning your ultimate Scotland Road Trip with our 7-day North Coast 500 itinerary
No time to read now? No worries! Save this to your Pinterest for later!
Wild Camping North Coast 500 - The 10 Best Places to Wild Camp
Below is a list of all of the best spots for wild camping the North Coast 500. All of these will be discussed in greater detail later in this article, including how to get to them and pictures of the sites.
Dornoch – Dornoch Beach
John O'Groats – Duncansby Lighthouse
Thurso – Strathy Point Lighthouse
Durness – Ceannabeinne Beach / Village Trail
Loch Laxford
Scourie
Ullapool

Poolewe

Applecross
Wild Camping North Coast 500 – The Best Places to Wild Camp
Why Wild Camp on the North Coast 500?
Although there are plenty of NC500 campsites to choose from, as budget backpackers wild camping was our top choice. This is the accommodation that we would recommend, especially if you are on the go and love a bit of adventure. Out of the countless reasons why wild camping in Scotland is the best choice, here are just a couple –
It doesn't cost you a penny;
You can choose the perfect spot that you want, and not be told where to go;
You can constantly move on without worrying about arriving at a campsite on time to check-in. There is absolutely no hurry, just pull up when you see a spot.
If you prefer the more comfortable style of camping, with showers, toilets and an onsite restaurant, read our complete guide to all of the best campsites on the NC500.
Wild Camping Good Practice
When you are looking for a spot to pitch up for the night, you cannot just choose anywhere you wish. Some people might not take too kindly to waking up to discover you pitched up in their back garden.
The rules we follow are as follows:
Ensure you're out of sight of any residences, or at least 200m away from them.
Choose a spot that is that isn't going to have people walking past your tent regularly.
Don't pitch up right beside a campsite, this is seen as quite rude. If you find an ideal spot, head around the corner out of sight of the campsite and you will be fine.
When you leave the camping spot as you found it. There should be no evidence that you were there, apart from footprints and good memories!
Arrive after dark and leave before light. Do not overstay in one spot, or if you wish to use the same site make sure you leave and return to prevent the beauty of the highlands being ruined.
Around the NC500 you will see many campervans pulled over in various locations. This is proving to be quite a problem along the North Coast 500, as popularity increases. Our last piece of advice is the most important to ensure everyone can continue to enjoy the beauty of the highlands: Don't overstay your welcome. If you find a spot and there is someone else there, move onto another location and leave this one for the night.
Read more about the best guidelines and practices for wild camping before your trip and get wild camping savvy.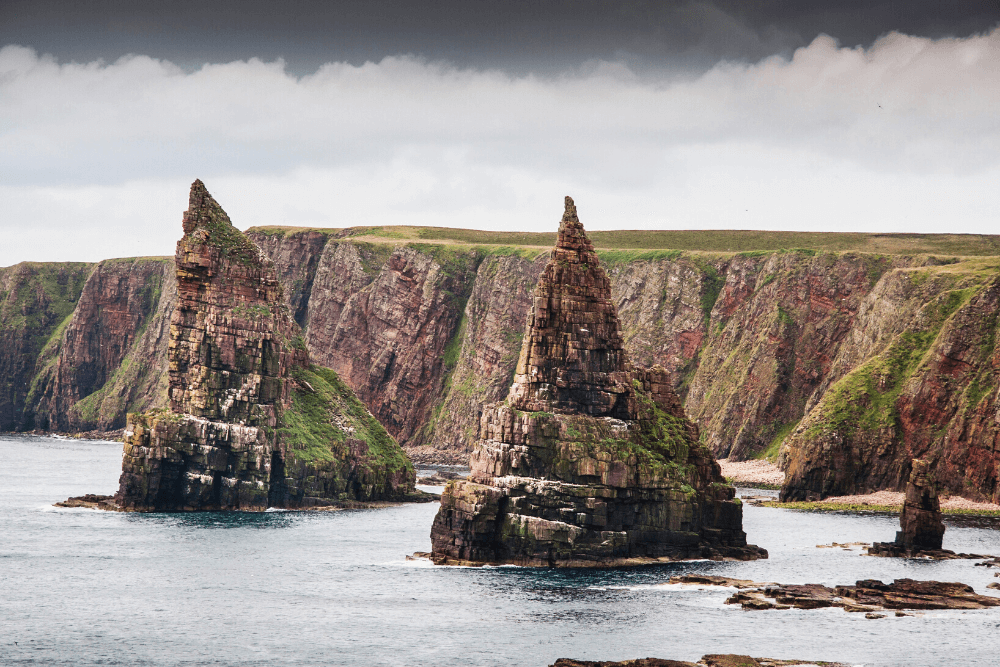 How to Get Around the NC500
Due to the remote location of the NC500, the only way to get around is to drive. Renting a vehicle is, therefore, the most popular way of touring this epic road trip for overseas visitors. It is up to you whether you wish to rent a car and pack a tent for this trip to the highlands, or whether you wish to rent a campervan for a more comfortable trip.
If you are looking to rent a cosy, reliable and luxurious campervan for your trip along the NC500, we highly recommend hiring through Bunk Campers.
Browse the full range of vehicles on offer at Bunk Campers over here.
Best Wild Camping Spots on the North Coast 500
Dornoch Beach Wild Camping
A 5-minute drive from the small town of Dornoch lies the beautiful white sand beach of Dornoch Beach. Bustling with children and families on a warm day, it was almost eerie pitching up here at night with only the sound of the crashing waves to keep us company. This spot was pretty perfect though as it had a sheltered area that we used for cooking up our fantastic campsite meals.
Due to how remote the area is around Dornoch, Dornoch Beach wild camping spots are relatively easy to find. This is obviously so long as you follow the Scottish Outdoor Access Code, such as the "leave no trace" rule, and respect the beauty of the area so that other campers can continue to enjoy this incredible place. Due to how quiet this spot is, Dornoch beach is one of the best campsites in Scotland near the beach.
Best Campsite in Dornoch
If camping isn't your deal or the weather turns on you for the night, then there are plenty of last-minute accommodation choices available around Dornoch town. Check out all of the best choices for your stay in Dornoch right here.
Our top recommendation is the Dornoch Caravan and Camping, which is located right in the centre of Dornoch.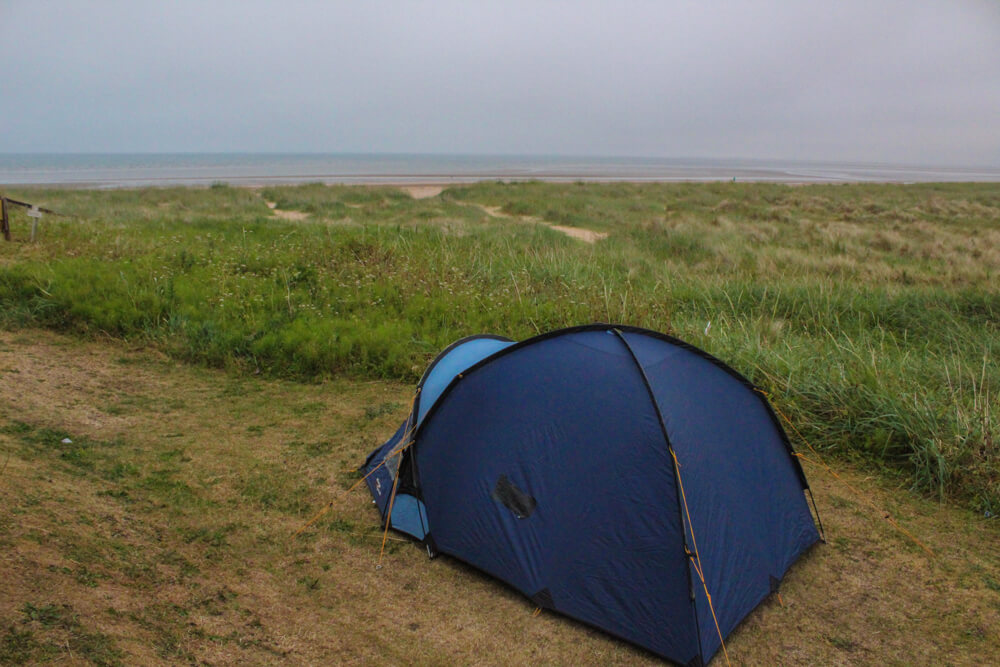 Duncansby Lighthouse
For wild camping overlooking Sandy Bay,  John O'Groats, the best spot sits right on the edge of the world. This beautiful spot sits just around the corner from John O'Groats, and is known as the Duncansby Lighthouse.
This was a stunning place for a view of the sea and a perfect sunset. Just watch out for the sheep poo! In the morning, get up early and walk over the hill behind this view to watch the sunrise over the magnificent Duncansby Stacks. A sight you will not forget!
This was a popular overnight stop for wild motorhome camping spots on the NC500 and we were the only tent here.
NOTE – It has recently been brought to our attention that this spot is within a fenced area and is therefore not acceptable for wild camping. Alternative wild camping spots can be found to the south at Keiss.
Best Campsite in John O'Groats
Check out some of the best views in Scotland, all from the comfort of your hotel room at John O'Groats. If you do not fancy a night in a tent, then check out some of the more plush accommodation options on the North Coast 500 right here.
Our top recommendation is the John O'Groats Caravan and Camping Site, situated right on the northern tip of John O'Groats.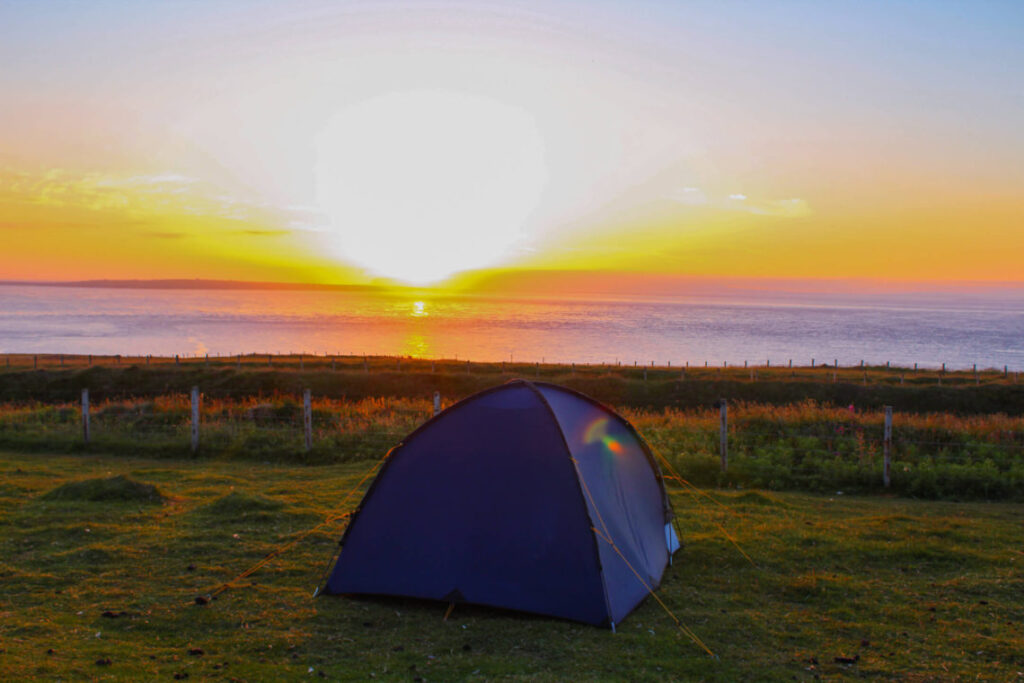 Strathy Point Lighthouse
Hidden away from the main road near Thurso is the road leading to the Strathy Point lighthouse. There were a few campervans parked up just before the car park, showing us its a perfect spot to pitch up. We pulled over onto a flat bit of grass just before that and spent the night. Another stunning sea view along with a beautiful walk to the lighthouse in the morning.
Once again, early mornings here pay off with stunning sunrise views over the sea. We walked to beside the lighthouse and started the day off with some morning, cliffside yoga.
Best Campsite at Strathy Point Lighthouse
There are no campsites near to this exact location, however, on the main road before you turn north to Strathy Point Lighthouse, you have the Strathy Inn. This cosy B&B is not the grandest accommodation in the world, however, it is the perfect place to rest your head for the night.
If you are looking for a caravan and camping site, further East of the Strathy Inn is the Hallandale Inn, which hosts its own touring park. This is perfect for motorhomes, caravans, tents, and even glampers, as it has its own glamping pods available to rent. Book your stay in advance to avoid disappointment.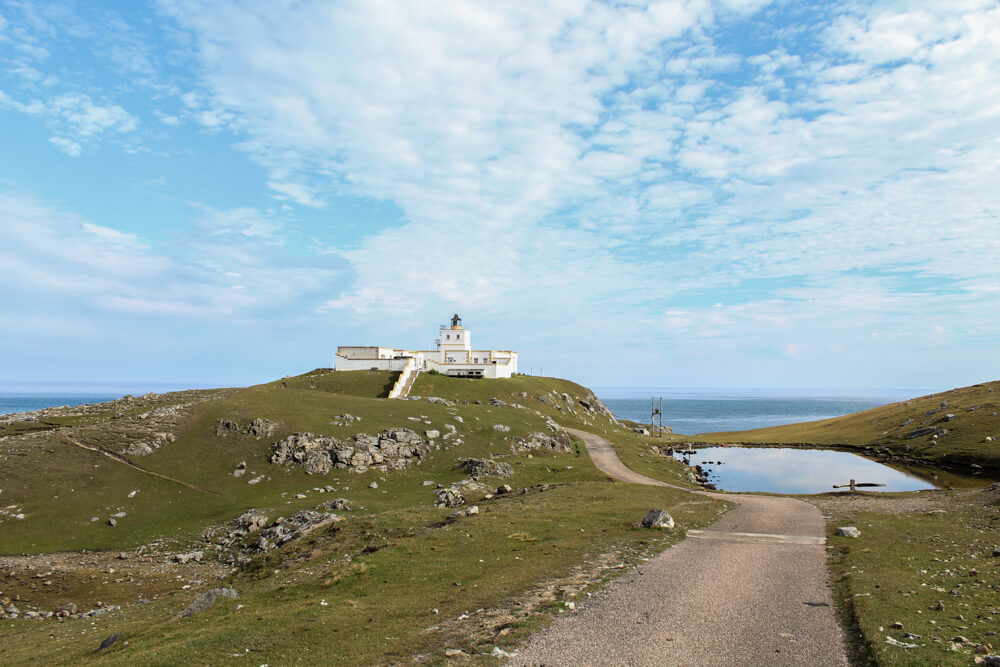 Durness Wild Camping Spots – Ceannabeinne Beach / Village Trail
Motorhome Friendly – NO
When we were choosing an area around here we wanted one that wasn't too far a walk from the car as it had started raining, and also a spot with mobile reception. We pitched up late enough at night that there didn't appear to be anyone coming to do the village trail. We also made sure that we were away early enough in the morning before any visitors came.
This also made for a beautiful morning walk, learning all about the struggles of the Ceannabeine villagers during the Highlands Clearances, and the fascinating history of the area.
If you are in the mood for another one of the best campsites on the NC500 near a beach and don't mind the lack of mobile reception, the Ceannabeine Beach is perfect for you! This is slightly further away from Durness, however, it is a popular camping spot so you will not be alone.
Best Campsite in Durness
If you are looking for a Durness campsite, there is the Sango Sands Oasis Campsite just outside the town centre. However, if you fancy the wild side to life, there are lots of beautiful spots around this area for wild camping Durness.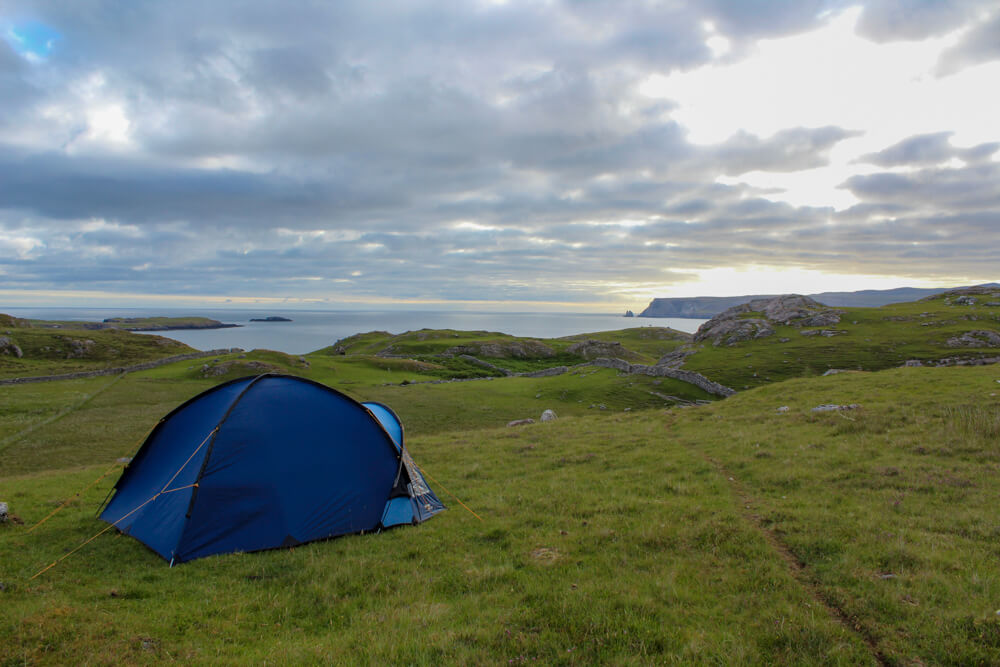 Loch Laxford Wild Camping Spot
As you drive south on the road past the corner of Loch Laxford, you will see a small hut on the righthand side. Beside this hut is a generous area for parking up with plenty of space for motorhomes and tents alike. The hut is still in use, however, so it is essential that if you choose to park here, you do so respectfully.
The best way to use this camping spot is to arrive late at night and leave early in the morning, therefore minimising the disturbance of the locals who use this area regularly. As always, we as that you act responsibly and leave no trace in the area you camp in.
Scourie Campsite
By night five, we were due a shower and clothes wash. We decided to pitch up at a Scourie Caravan and Camping campsite and settled in for the night. This also allowed us to plug into electrics and charge up our many devices. It also meant we could enjoy a pint at the onsite pub and relax on an actual sofa for the night, out of our tent.
This campsite is right on the seaside, with stunning views of the nearby beach and harbour. It will cost you a very reasonable £20 for 2 people, one car and an electrical hook-up. The laundry facilities are £2 for the washing machine and £1 for 30 minutes in the drier.
If you fancy a break from the tent and need something more solid over your head then check out the hotel options in the nearby area right here. These will provide the perfect R&R from the wild camping life to refresh your sense of adventure and set you up for the rest of your trip.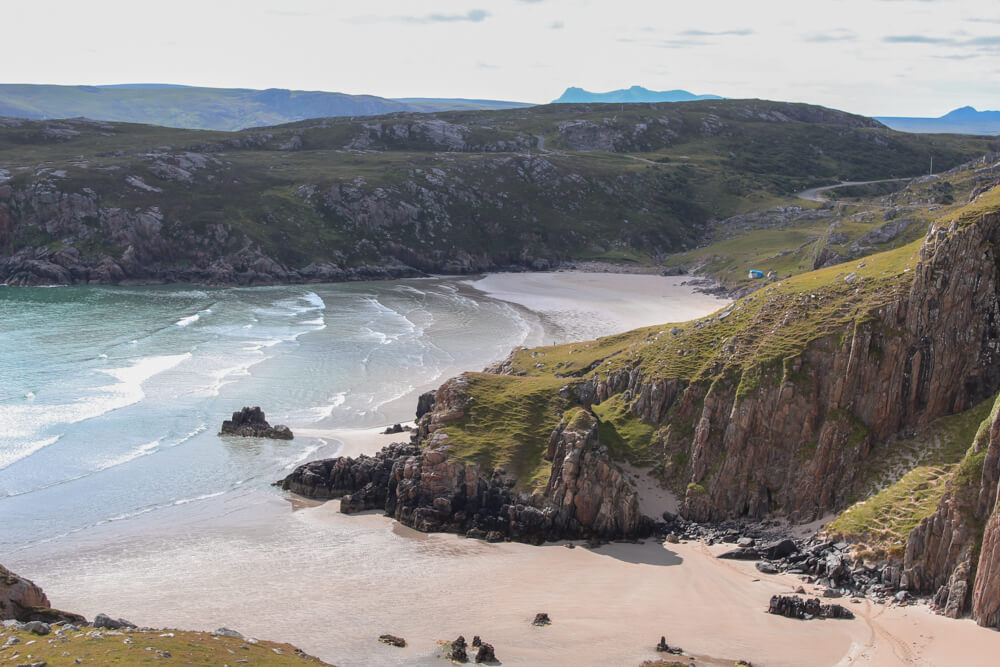 Ullapool Wild Camping Spot
When it comes to wild camping near Ullapool, it was a bit harder to find a flat spot to wild camp on that was far enough from the town. If you are entering from the north there is a flat spot up a hill where we managed to heave our car up to camp away from the road. This spot is right beside the main road so it can be quite noisy during the night, however, it is very hidden so you won't be bothered.
The sunset over Ullapool Harbour is definitely one of our North Coast 500 highlights. The pinks and blues dancing across the surrounding mountains, coupled with the stillness of the water make for a magical evening. Then, after that, head to the local pub for some casual live music with the locals.
Best Campsite in Ullapool
If you want to enjoy the small-town nightlife without having to drive back to your tent, have a look at the hotels in the area and bunk down on the harbourside. As for campsites, Broomfield Holiday Park sits right in the centre of town, the perfect spot to pitch up and head to the local pub.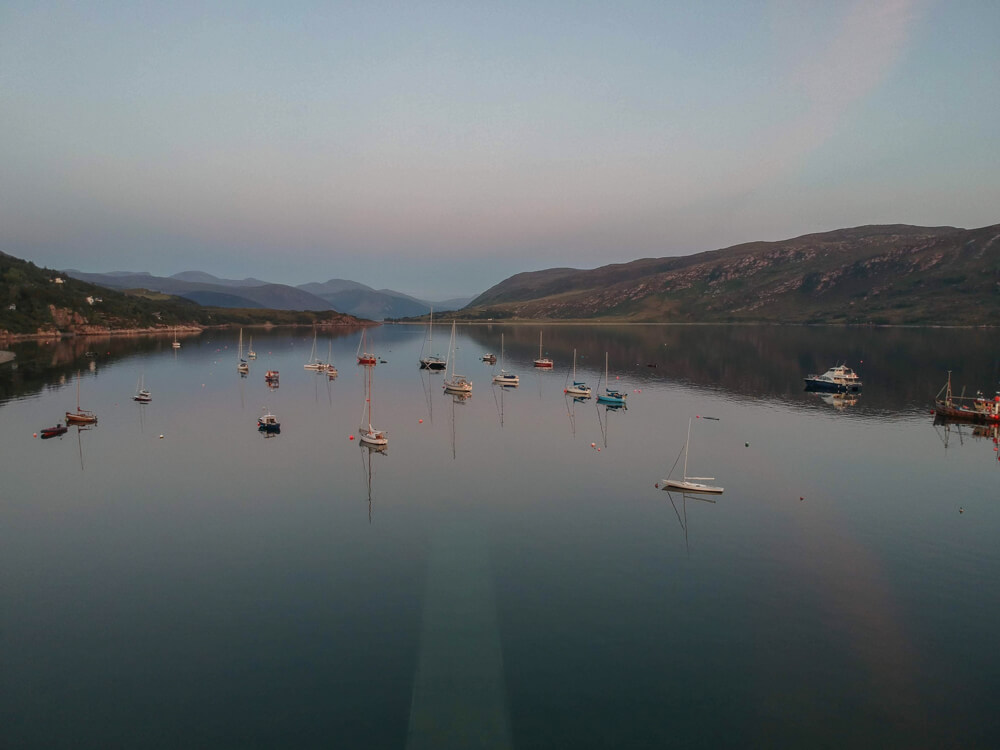 Poolewe Wild Camping Spot
This was definitely one of my favourite spots on the trip. About 4 miles north of Poolewe we managed to pull in down an old, dead-end dirt track and find a flat bit to pitch our tent with another spectacular sea view. This is definitely the best camping spot we have ever experienced, and the best part? It was completely free!
As it is further back from the road, you shouldn't be bothered by the traffic too much, leaving you to enjoy the serenity of the Scottish highlands all around you. This spot is in high demand, however, as we had about 3 people coming looking after us. Try and get there before 5pm to bag the spot before anyone else.
Find the exact coordinates to this incredible wild camping spot in our complete NC500 infographic guide. Including a full summary of the route, the top sights to see, where to shop, top tips to make your trip as smooth as possible, and so much more, this guide is a must have before you set off on your trip.
Read more about this North Coast 500 downloadable e-book here.
Best Campsite in Poolewe
If you are stuck for the night with a spot to pitch up, then have a look at the local accommodation and treat yourself to a roof over your head for the night. As for campsites, the Inverewe Gardens Camping and Caravanning Club Site is within walking distance of the town centre.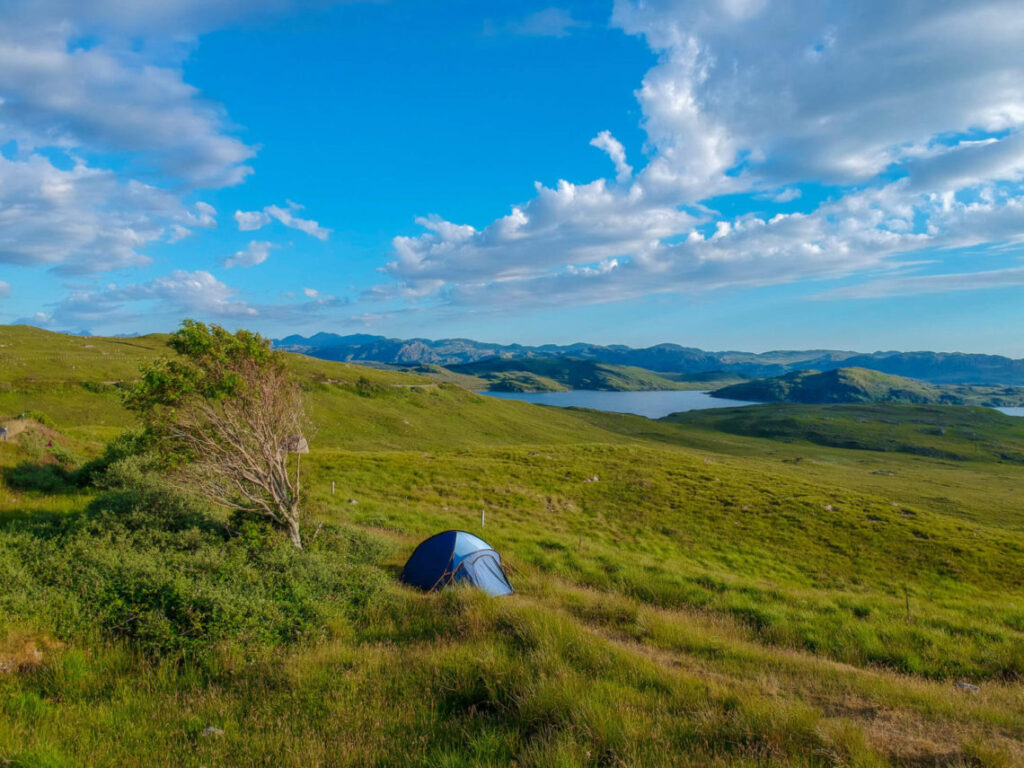 Applecross Wild Camping Spots
Motorhome Friendly – NO
For one of the most stunning drives in Scotland, a trip through to Applecross is a definite on your NC500 itinerary. The Bealach Na Bah pass is a winding, hair-raising, jaw-dropping experience that must be seen in person to be believed. The camping spots around this area are also amongst the best campsites on the west coast of Scotland, so don't miss out!
Although there are not many Applecross campsites, there are loads of wild camping spots on the outskirts of the town. We saw plenty tents pitched along the beach that looked set up to be spending at least a few days there, so it is a very casual affair. There are utilities such as toilets and water taps in the town centre, just a quick walk away, so these spots really are ideal.
We pitched up on the other side of the town, within walking distance to the pub! Yet again, another great sea view.
Best Campsite in Applecross
Sitting right in the centre of Applecross is the Applecross Campsite. This site has room for about 60 tents, allows for campervans and caravans and even has glamping huts available to rent. The site overlooks the bay and is a beautifully peaceful spot to finish your NC500 adventure.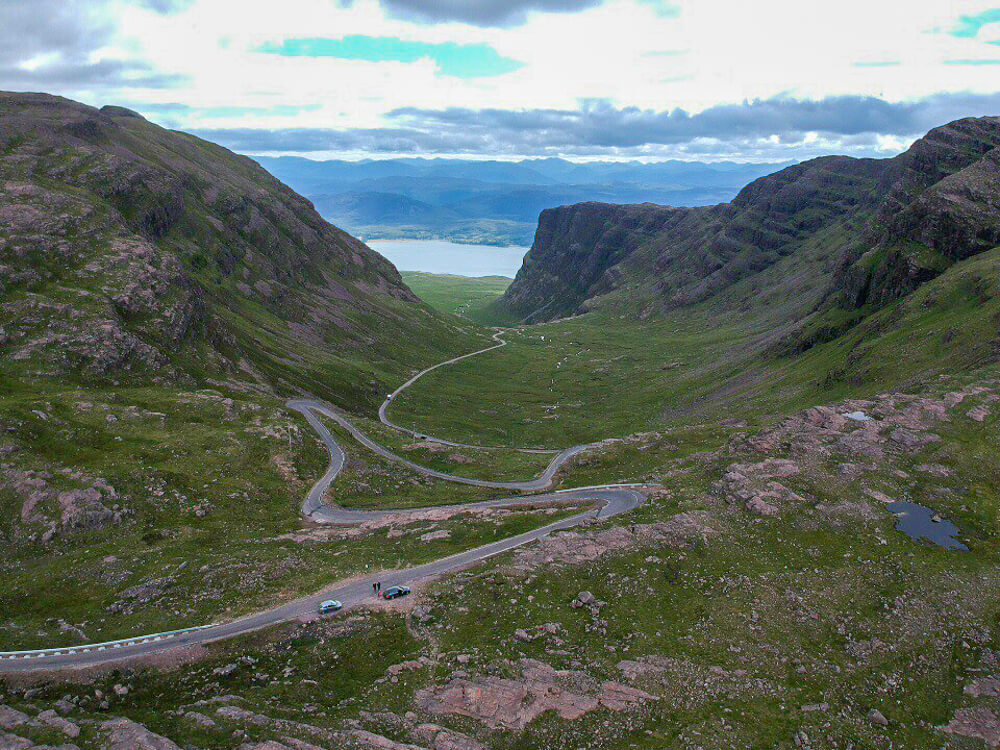 North Coast 500 Guidebooks
We have recently spent three months touring around the northern end of Scotland writing the most detailed travel guide to the North Coast 500 route on the market. Plan your road trip to the max with Destination NC500 and support us to write more in-depth travel guides just like this one.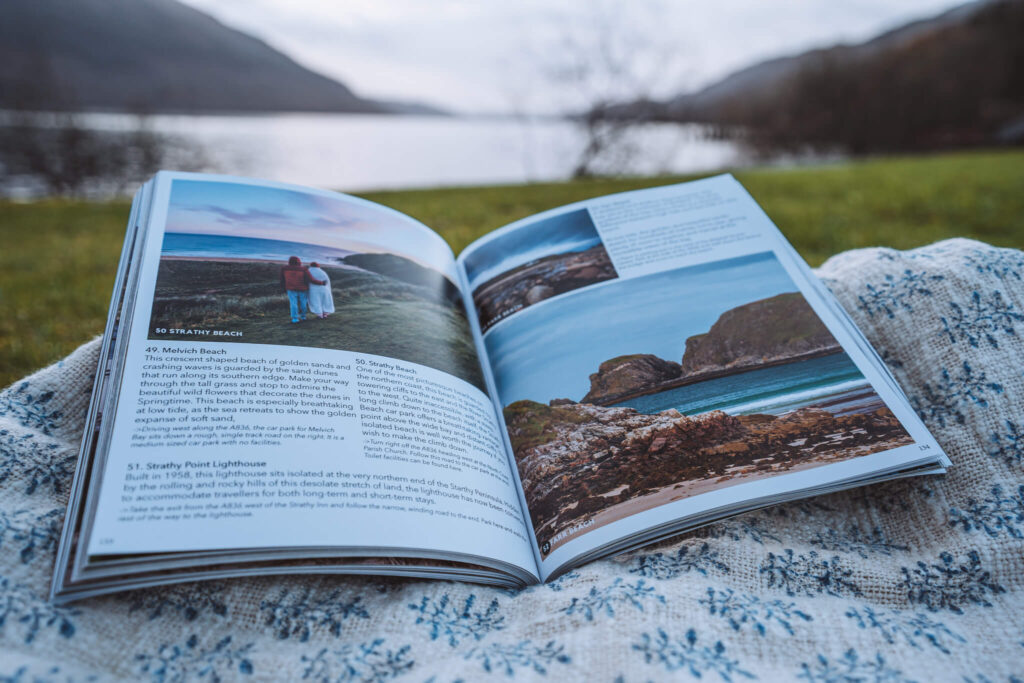 Before You Leave on the North Coast 500
Before you head off on your trip around the NC500, there are certain things you will need to get organised to ensure a smooth trip. These include how to get around the route, including being aware of single track roads, etc., what to pack for Scotland, where to stay along the route and what travel insurance to book.
Read more planning tips for the North Coast 500 in our full guide.
How Do I Get Around the NC500?
Given the remote location of the NC500 and the majority of the sights along the route, the best way to get around this road trip is by driving. There are of course other methods that are still popular, such as cycling and hiking, however, if you have a short amount of time on the route, neither of these are very suitable.
As for public transport, the use around the NC500 is understandably difficult due to how remote each location is, however, with the increasing problem of congestion along the route, this is a good option to research if you have time. If it is something that interests you, you can read a public formed itinerary of how to get around the NC500 by public transport over here.
If you are looking to rent a cosy, reliable, and luxurious campervan for your trip along the NC500, we highly recommend hiring through Spaceship Rentals. 
Browse the full range of vehicles on offer at Spaceship Rentals over here.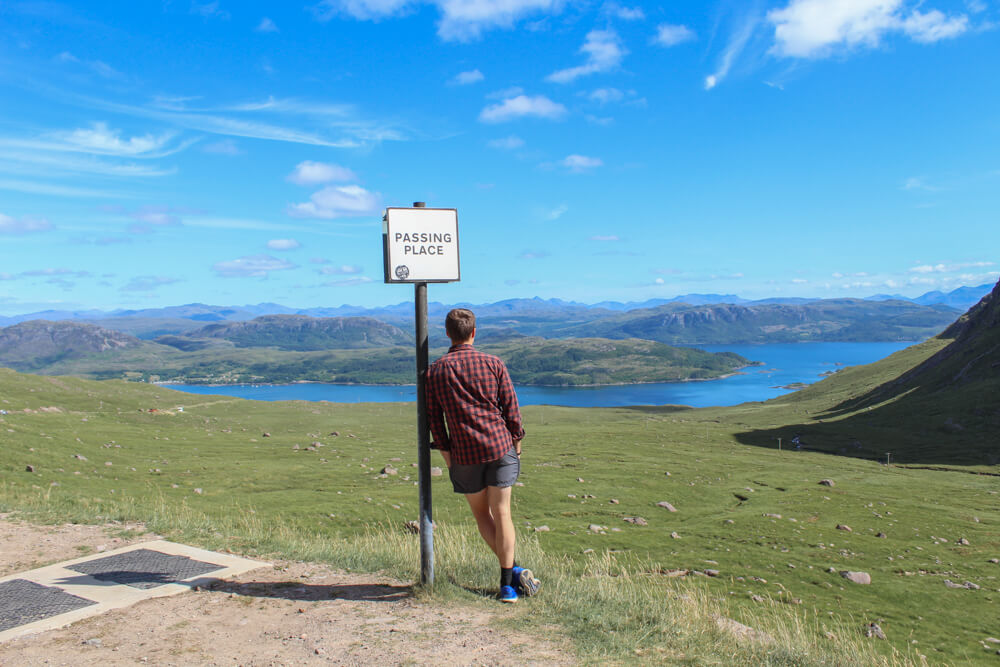 What Should I Pack for the NC500?
When it comes to packing for a trip along the NC500 there is one item of clothing that you are going to need all year round: a waterproof. It rains in Scotland on average 250 days a year, meaning that during your 7-day NC500 road trip you will probably experience at least a drizzle of rain. Due to this, the number one item on any Scotland packing list is a good waterproof jacket.
As for the rest of the year, the temperature in Scotland and the central heartlands is reasonably mild for most of the year. During the winter months, you will most likely experience snow, however, temperatures usually sit around freezing, so it is not too cold. For your reference, the average temperatures in Scotland are listed below during each season.
Spring (March, April, May) – 5-10 degrees C
Summer (June, July, August) – 15 degrees C
Autumn (September, October, November) – 5-10 degrees C
Winter (December, January, February) – 0-5 degrees C
As you can see, the weather never really gets above the teens, with anything over 25 degrees C considered a heatwave. The best way to pack for your trip to the highlands is with layers that can be added and removed as you need them. You will definitely need a hat and gloves during the colder months and will most likely need sunscreen to protect you on the long days in the open.
For our full list of items that we pack no matter where we go in the world, check out our full packing guides over here.
Given the beautiful sights and scenery that you are no doubt going to see around Scotland, we highly recommend packing a good camera for your trip. If you want to read more about the cameras we use and why we love them, check out the link below.
You can read what else we keep in our camera bag over here.
Waterproof
First and foremost, if you are camping in Scotland, you are going to need a waterproof jacket. Given that it rains more often than the clock chimes, you do not want to dampen your trip without packing a good waterproof jacket.
The Regatta Pack It Jacket III is an excellent, cheap and durable waterproof for your outdoor expedition.
Check out what other waterproofs are available and compare prices right here.
Tent
For an enjoyable wild camp, your home for the night is a big factor in how comfortable you are going to be. Depending on how you plan on getting to your camping spot, you can either go for a large, spacious tent, or a small and lightweight one.
For our NC500 trip, we went for a mixture of the two with our Vango Sigma 300 tent. This tent provided us with a large interior for a double airbed, storage space for essentials and a small porch to cook under shelter.
If this one isn't for you, you can browse a huge range of tents of all shapes and sizes right here.
Inflatable Roll Mat
In this day and age, the time of sleeping on an uncomfortable, paper-thin roll mat and waking up with a broken shoulder, neck and back is over. With ultra-compact, easy to inflate and unbelievably lightweight roll mats now available, camping is almost luxurious!
We slept on these roll mats during our three month camping trip in Europe, and honestly they are comfier than my bed at home.
If this one isn't for you, you can browse a huge range of mats of all shapes and sizes right here.
Where Should I Stay on the NC500?
The remoteness in the highlands of Scotland will leave you with little choice of accommodation in each location along the NC500, however, there are still enough options to choose from to ensure a comfortable trip. These are mostly in the shape of B&Bs, Airbnbs, converted cottages and other quirky accommodations.
Depending on how adventurous you are, there may be more accommodation choices than just the above, often with an even better view. Caravan and camping sites are abundant along the NC500, drawing camping enthusiasts from all over the world. For some of the most spectacular bedside scenery along the North Coast 500, we recommend packing a tent and getting in touch with nature for the week.
As we travelled along the North Coast 500, camped in our trusty Vango tent on a mixture of campsites and wild sites. Wild camping is a fantastic way to enjoy the beauty of the highlands, however, it must be done respectfully. Read our full guide to Wild Camping if you wish to give it a go so you know everything you need to for a comfortable and sustainable trip.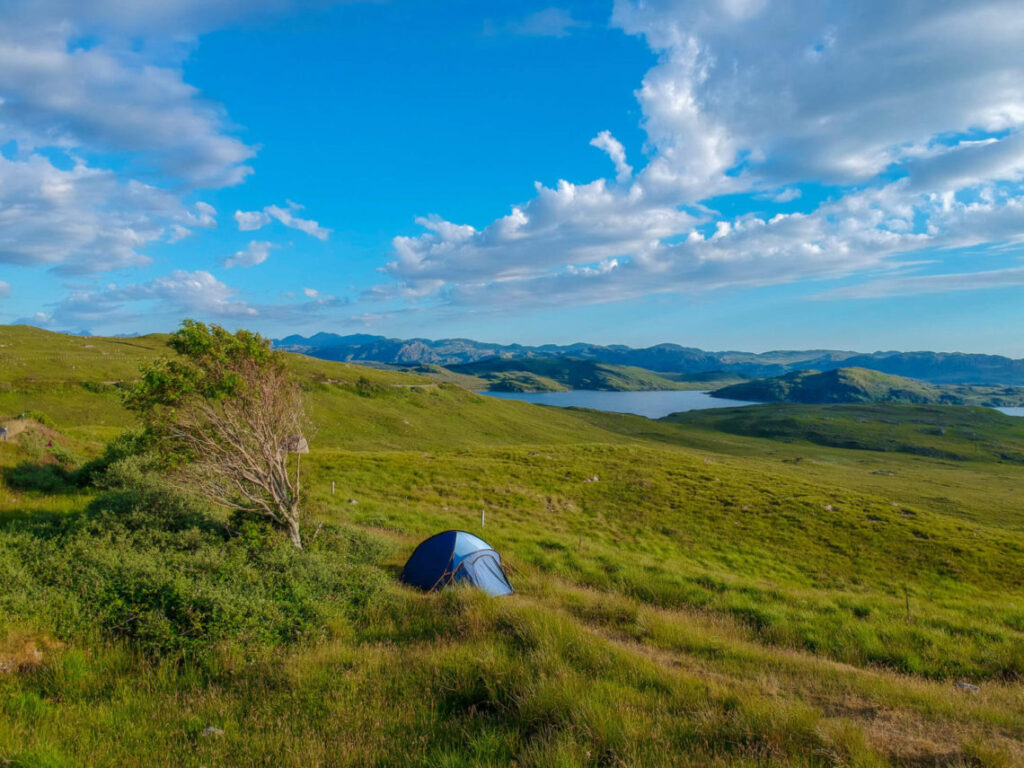 What is the Best Travel Insurance?
I know travel insurance is the least enjoyable thing to purchase and look at when you're planning a trip, however, you wouldn't want to be without it in the event that something happened. Accidents can happen anywhere and the extortionate medical bills will ruin your trip if you are not covered.
To ensure you have a stress-free trip with no worries about potential medical bills, make sure you cover yourself when you travel. We can recommend using SafetyWing, a backpacker-friendly and cheap insurance company that provides good coverage and support. It is also nomad-friendly, unlike most other insurance companies, meaning you do not need to worry about being out of your home country for too long.
Get a quote for your travel insurance right here and get covered!
FAQs on the NC500
Where can I Camp on the North Coast 500?
There is a huge selection of campsites spread along the length of the North Coast 500 road trip, all of which are perfect for anyone wanting a comfortable sleep with showers, toilets and power. However, if you fancy a trip a little more on the wild side, it is legal to wild camp in Scotland and there are a lot of wild camping spots along the NC500 route as well.
Is Wild Camping Allowed in Scotland?
It is generally legal to wild camp around Scotland, with the exception of some specific areas due to bye-laws. For example, it is not legal to camp on the western shores of Loch Lomond due to overuse and lack of respect. When you are wild camping in Scotland, the most important thing to remember is Leave No Trace.
Where Can I Wild Camp NC500?
The best spots to wild camp on the NC500 are those listed in greater detail in this article:
Dornoch – Dornoch Beach
John O'Groats – Duncansby Lighthouse
Thurso – Strathy Point Lighthouse
Durness – Ceannabeine Beach / Village Trail
Scourie
Ullapool
Poolewe
Applecross
Read our full list of Wild Camping Spots along the North Coast 5oo for all of the most beautiful locations that you can wild camp on this epic road trip. 
How Long Does it Take to Drive the North Coast 500?
A very popular and important question when it comes to the Nc500 driving experience. The answer to this is a simple one; it can take however long you want it to. Some people race around it in one day, and some people slow travel it for over a month.
For us, 7 days was the answer, with no two nights spent in the same place, although plenty of time to see lots of sights. You can pitch up in a spot here and explore the surroundings for two of three days before moving on, or you can make some quick pit stops at each one and get going.
Is the North Coast 500 Suitable for Motorhomes and Caravans?
In short, yes it is. Touring the NC500 in a caravan or motorhome is a very popular choice, given the freedom that it brings. Given the additional size that these vehicles possess, I can only say that you should take extra care while driving the roads around this route, especially on the western coast.
There is one road, however, that is NOT suitable for larger vehicles and that is the Bealach na Ba pass towards Applecross.
So there you have it, your ultimate guide to wild camping on the NC500. If you have been to Scotland recently, let us know how you found it in the comments below. What were your favourite sights? What did you think of the castles? Where was your favourite stop? Let us know in the comments below.
If you are planning a full trip to Scotland, make sure you check out the rest of our guides and Scotland content to ensure a stress-free adventure. We will gladly answer any questions you have with regards to your trip, so either DM us or send us an email.
Don't forget that sharing is caring! Be sure to share this article with your family and friends to let them know all about your big plans. Maybe even inspire them to visit the NC500 themselves! Catch up with us on social media and see what we are currently up to. Tag us in your photos from your North Coast 500 adventure on Instagram so that we can share them with the rest of our community.
Read Now:
This article may contain affiliate links that provide us with a small income. For more information read our Affiliate page.
---
Save this image to your Scotland Pinterest Board for later!